UTEP, Kugler Land Showers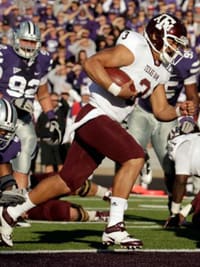 EL PASO, Texas - In perhaps his biggest move of the off-season, UTEP football coach
Sean Kugler
has made his presence known as Texas A&M backup quarterback
Jameill Showers
committed to the Miners Tuesday.
"I sent over my letter of intent and chose UTEP," Showers said in a phone interview. "My dad and I took a trip down [to UTEP] this past weekend and we had fun, met the coaching staff and I got to talk to Coach Kugler. They are doing some big things."
The transition for Showers shouldn't be too difficult as his previous coaches at Texas A&M have run similar offensive playbooks to what Kugler intends to run in his first year at the helm.
"[UTEP's] offense has a little bit of what I learned now and what I learned and what we ran with Coach (Mike) Sherman with the same concepts and everything," Showers said. "I'm just going to get into the mix and do things that will help the team."
With an impending graduation, Showers will have two years of eligibility left while he pursues a master's degree in construction management at UTEP.
"I'll be graduating in June and I should be in El Paso in July and I'll probably come back to [Texas A&M] to walk the stage," Showers said.
Originally born in Alpine, TX, there is already a comfort level with the area and felt good returning to the region.
"When I went in, I felt an immediate trust with the coaches and I liked the town," Showers said.
Showers was slated to be the Aggies quarterback of the future starting in 2012, but lost his starting spot to Heisman Trophy winner Johnny Manziel.
The former Shoemaker high school star from Killeen, Texas was a 3-star prospect (Rivals.com) and was being groomed to take over for the current NFL quarterback Ryan Tannenhill after redshirting his first year (2010) with the Aggies. Unfortunately, Showers was beat out for the starting job by Manziel in the fall of 2012 and after the season, he felt he wanted to transfer to be a starting quarterback at another school.
Showers passed for 359 yards with a 63.3 career completion percentage and also ran for 72 yards with three total touchdowns in his two years as a backup. The 6-foot 2 inch 220-pound dual-threat quarterback possesses a cannon arm and is extremely mobile with excellent speed (4.6 - 40).
"I'm excited," Showers said of his decision. "I'm ready to turn the program around and help. There are a bunch of great athletes and Coach Kugler knows how to get the job done. I'm on board to help him."
Staff writer Josh Puga contributed to this report.